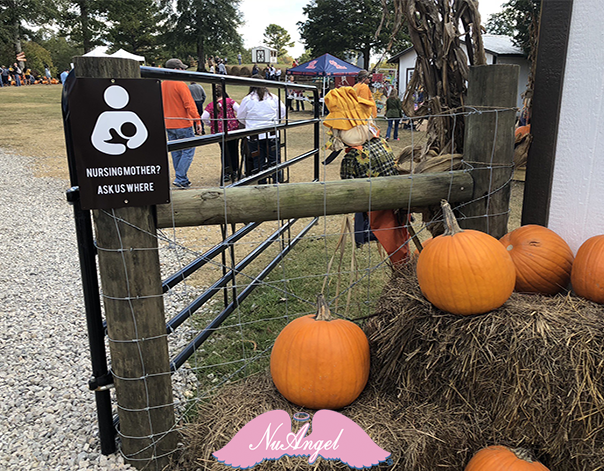 NuAngel Products at the Pumpkin Patch!
Hi, Moms! I hope your family has enjoyed lots of fall fun this October!
Over the weekend, our family took our first trip to the pumpkin patch as a family of 4. The weather was perfect and the new pumpkin patch that we visited was full of family fun! Our older daughter enjoyed riding a horse for the first time, while our younger daughter enjoyed people watching and sitting among the pumpkins!
If you're a mom of small children, you know that a "big" outing requires planning ahead for what you'll need for a successful day with your children! While my 4-year-old's essentials are snacks, water, hand-wipes, and a change of clothes (just in case); the 10-month-old requires a bit more planning. Along with a sippy-cup, teethers, and toys, several NuAngel essential items made the day out with our baby a success!
Here are just a few of my favorites:
Nursing Essentials
At the front entrance of the farm, we saw this nursing mother sign! We asked about the nursing friendly location at the ticket booth, and one of the owners was so nice and helpful! She said, "Let me be clear that you are more than welcome to feed your baby anywhere on our farm! If you prefer to have a more private space, we have one available." How refreshing and truly family friendly!
Right now, my baby is old enough that she is squirmy and extremely distracted while feeding unless in her perfectly quiet bedroom. The nursing area was perfect for us and was very appreciated! It allowed my baby to feed without distraction with my NuAngel Trinity II Nursing Pillow, which made her more comfortable and felt familiar to her. 
The medium-size Trinity II Nursing Pillow is perfect for breastfeeding on the go! It's compact and fits easily in a diaper bag, or a separate bag in the bottom of your stroller. The best part for using on the go? It's 100% washable and dries easily! So, if you're like me and worry about the germs that you may bring home on your bags and other items, worry no more! Simply use while you're out and wash when you get home. Check out the Trinity II Nursing Pillow on the NuAngel website! https://nuangel.com/collections/trinity-maternity-nursing-pillows
Another nursing and multi-use essential item is the NuAngel Large Receiving Blanket! This blanket is perfect for discrete nursing. It provides large-area coverage to flexibly cover baby however is most comfortable for you. Even better? This blanket not only worked as a nursing blanket, but it also made a great stroller blanket and a great place for my baby to sit on the ground with toys comfortably! Check it out here: https://nuangel.com/collections/nursing-covers-blankets
Last but not least, an all-day outing for a nursing mom is made much more comfortable with nursing pads. NuAngel provides several wonderful options, but my favorite on the go are the NuAngel Biodegradable Disposable Nursing Pads. They come in two different shapes and are discrete under clothing, soft, and ultra- absorbent. I pack several changes in our diaper bag, just in case. Check out the options for disposable and reusable pads on the NuAngel site! https://nuangel.com/collections/nursing-pads
Diaper Changing 
A long day out on the farm means several diaper changes for baby while on the go! While we were on the farm, I used the NuAngel Changing Pad for our baby in our car's tailgate, in the nursing room, and on the ground on a blanket!
I truly do not leave our house without the NuAngel Changing Pads. To me, they are as important as the diapers and wipes themselves for keeping baby clean and protected from germs on diaper changing surfaces. Their large surface area keeps my baby's whole body clean and protected, as well as the surface below. They easily wash and dry, are durable, and roll or fold compactly for easy storage.  You can find them on the NuAngel Website here! https://nuangel.com/collections/changing-pads
These are just a few of my essential items for outings with baby! Moms, what are your "must have" items for a day on-the-go?