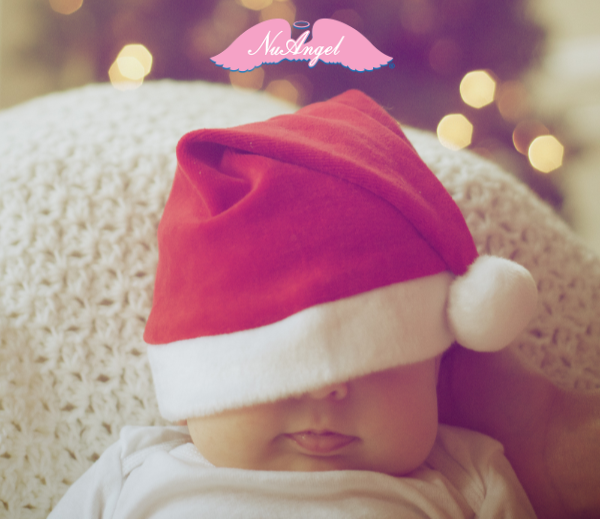 NuAngel Baby Gift Guide
Is there a special new baby on your Christmas list this year? If you're shopping for a new baby, look no further than NuAngel, Inc.!
Last year, our daughter was expected to arrive in early January, but made her grand appearance just a few days before Christmas! Her name was included on the family gift swaps since she was due so close to Christmas. When asked what we needed, I suggested the "essentials". Being the second girl, she already had most of the toys and clothes that she would need for the whole first year! 
While we had some essentials from our first daughter, such as blankets and burp cloths, they were very well "loved" and it was nice to have some fresh, new essentials that were all her "own". A personalized monogram or name made the items even sweeter!
NuAngel, Inc. offers personalization of items for such an affordable price! Monogram initials are $5 and a name is $7. NuAngel products are already such high-quality, affordable products, that personalization (and free shipping!) is just the "icing on the cake"!
Here are a few of my favorite gifts for baby!
 Receiving Blankets
Every baby needs a special receiving blanket that is his or her own! NuAngel offers a standard and large size receiving blanket, which are both very soft and versatile gifts! Both sizes come in a variety of colors and styles and are available for monogramming. Monogramming comes in a variety of colors and fonts. Personalization options are endless for the sweet new baby in your life!
https://nuangel.com/collections/receiving-blankets
Burp Pads and Burp Cloths
NuAngel burp pads and burp cloths are essential items that new families shouldn't do without! Both styles are soft and comfortable on baby's delicate skin when holding and burping. They offer optimal protection for parents' clothing against inevitable baby messes.
The burp cloth sets come in soft natural and white cotton packs. The burp pads come in a variety of color options! Add personalization for a special touch! Personalization also helps when packing burp cloth in baby's bag for childcare. 
https://nuangel.com/collections/burp-pads-cloths
Angel Gift Set
This sweet gift set is a perfect gift for the new "angel" in your life! Having a hard time choosing which great gift to purchase? The Angel Gift Set includes a bib, burp pad, and blanket. These precious sets are already made and ready to ship! 
https://nuangel.com/collections/gifts
 You still have time to order any of these precious essentials for the new baby in your life! Shipping is fast and free! 
Please allow 1-3 days for personalization before shipment.
Visit www.NuAngel.com for more detailed item information and ordering!