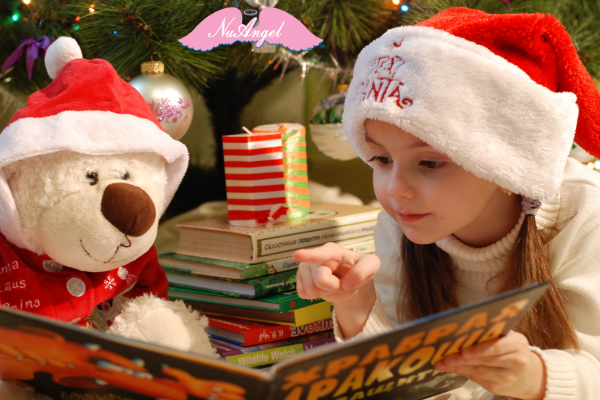 Giving and Receiving: Toy Safety
Hi, Moms! NuAngel, Inc. hopes you had a wonderful Thanksgiving, full of delicious food and sweet family fellowship!
Christmas preparations are now underway with tree decorating and gift-buying. We're anticipating a fun-filled, exciting Christmas season this year with our four and one-year-old! As we've been preparing and suggesting gifts for our children, one concern has come to my mind: toy safety.
Right now, our older daughter is mature enough to play with and enjoy toys with small pieces. These toys are developmentally appropriate for her and help to develop her fine motor skills; however, we now have an 11 month old cruising around on the floor! It's a constant battle to make sure no tiny pieces have landed on the floor that may make it into her mouth!
 According to the U.S. Consumer Product Safety Commission (CPSC), there were an estimated 251,700 toy-related injuries treated in U.S. hospital emergency departments in 2017. As we're buying or receiving gifts for your little ones this year, let's keep toy safety at the forefront of our minds!
Here are toy safety tips to keep in mind and links for additional information on toy safety:
Toy Safety Tips
 1) Always read the age range, package information, and potential hazards when considering a toy.
2) When unwrapping toys, throw away packaging pieces immediately, as they may contain choking hazards.
3) Double-check that there aren't small parts or other potential choking hazards, especially for curious younger siblings.
4) Make sure batteries are secured safely for battery-operated toys.
5) Store toys in a container when playtime is over. At our house, we reserve the baby's naptime as a time for toys with small pieces. When baby wakes up, we double-check the floor and put toys with small pieces away. 
6) Keep an eye on recalls. You can sign up for recall alerts on safekids.org and www.recalls.
`
Additional Links and Resources
Safe Kids Worldwide
Toy Safety: https://www.safekids.org/safetytips/field_risks/toy-safety
Toy Safety for Babies: https://www.safekids.org/safetytips/field_age/babies-0–12-months/field_risks/toy-safety
Toy Safety for Little Kids: https://www.safekids.org/safetytips/field_age/little-kids-1–4-years/field_risks/toy-safety
Fisher-Price
Toy Safety Checklist: https://www.fisher-price.com/en_US/parenting-articles/health-and-safety/toy-safety-checklist
Child and Family Services
December is National Safe Toys and Gifts Month: https://child-familyservices.org/december-is-national-safe-toys-and-gifts-month/
Happy gift giving and receiving!