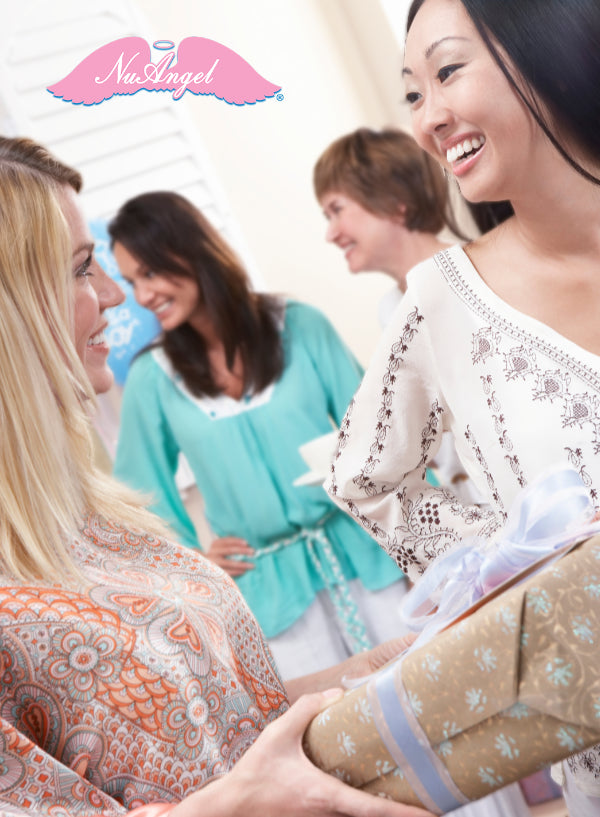 NuAngel Baby Shower Gift Guide!
A baby shower is such a special milestone, as joy and anticipation fill the room from parents-to-be and guests alike!  Choosing a baby gift is a fun experience and parents will need a wide variety of items to help get ready for baby.
Will you be attending a baby shower soon? Look no further than www.nuangel.com for the perfect baby shower gift! NuAngel offers a wide variety of items for mom and baby, from practical to personalized. Any item can be gift wrapped for $5!
Here are a few of my favorites to give and receive:
 Easy Gift Set
Looking for an easy, unique, and helpful gift? The Angel Gift Set is a perfect, all-in-one gift for a mom-to-be! The matching set includes one bib, one burp pad, and one baby blanket, all of the same ultra-soft 100% cotton! It's wrapped together to look like a sweet angel, and packed in a gift-box. Choose from solid mint green, or "Jesus Loves Me" print in pink, yellow, or blue.
https://nuangel.com/collections/gifts/products/mint-angel-gift-set
Add Personalization for Keepsake-Worthy Gift
Personalization adds a special touch to any baby gift! NuAngel offers monogramming to many items for only $5 for a 3 letter monogram and $7 for a name. Adding this special touch transforms any item into a special keepsake for baby! Personalization works great on these items:
The NuAngel Bib is a super-soft, tie-back bib with 2 layers of hypoallergenic cotton. They are durable and absorbent to keep baby's clothes clean, wash after wash! The adjustable neck grows with baby. NuAngel offers the bib in a wide variety of prints and solid colors! Perfect as is, or looks great with a large monogram in the center. 
https://nuangel.com/collections/bibs
The NuAngel Burp Pad's patented design wraps around the caregiver's shoulder to provide optimal protection while burping baby. Moms and Dads alike will appreciate the unique design. Soft, 100% cotton flannel is ideal for baby's delicate skin. Order as is, or add a sweet monogram to the corner. It's guaranteed to be a favorite necessity!
https://nuangel.com/collections/burp-pads-cloths/products/large-contoured-burp-pads-2-pads?variant=4287175917591
NuAngel offers two sizes of baby blanket: the large receiving blanket (40"X 40") and standard receiving blanket (30"x 40"). These blankets are an ideal and traditional baby gift! Both are versatile, comfortable, and soft. Either blanket will  easily become a keepsake blanket with an added monogram or name!
https://nuangel.com/collections/receiving-blankets/products/receiving-blanket?variant=3578947436567
Practical and Versatile
 Looking for something practical and versatile for the new mom? Look no further than NuAngel Natural Cotton Baby Wipes. The natural cotton has unparalleled softness for baby's delicate skin! These wipes can be used in so many different ways. They can be used as traditional baby wipes used with water, which is great especially for diaper rash or other irritation. These wipes also come in handy for bath time, mealtime messes, or in the diaper bag or car! They are very durable and affordable! They come in packs of 6 and 12. Check them out here: https://nuangel.com/collections/diapers-and-wipes
Especially for Mom
A perfect gift for any mom who intends to breastfeed is the NuAngel Flip and Go Nursing Pad Case and 4 Matching Pads. Available in solid gray, solid blue, solid pink, and yellow "Jesus Loves Me" print, this set is a great starter set for mom that she can use throughout her breastfeeding journey. The Flip and Go case is a great way to keep nursing pads clean and store used pads in her purse, diaper bag or pumping bag. Each case comes with 4 washable nursing pads, made of 100% breathable, hypoallergenic cotton flannel. 
https://nuangel.com/collections/nursing-pads/products/nuangel-flip-and-go-nursing-pad-case-with-4-pads-gray
Washable and Disposable Nursing pads make a great addition to this gift for mom! Grab a pack here: https://nuangel.com/collections/nursing-pads. 
And of course, don't forget the NuAngel Trinity II Nursing Pillow!  A must for nursing mothers. https://nuangel.com/collections/trinity-maternity-nursing-pillows
These are just a few of my favorite baby gifts to give and receive!  Visit www.nuangel.com for a wide variety of gift ideas for your next baby shower!