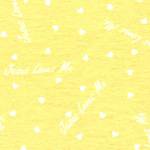 Yellow Jesus Loves Me Fabric by the Yard
We have run out of stock for this item.
All our fabric is cut to the desired length when purchased. We also generally add additional inches of fabric to each order to help ensure a straight edge.  Your order will arrive to you in one piece per color.

The fabric is made in the USA from 100% USA grown cotton!  It is a one- sided flannel and becomes softer after washing*.  This quality fabric is great for quilting, burp pads, blankets, bibs, etc. It does not meet, however, the flammability requirements for children's sleepwear.  The fabric is also being used for special gifts for chronically ill and nursing home patients.
*Due to the nature of the printing process, this fabric may not be as soft as expected for flannels. It does, however, become softer after machine washing and drying.
*(Yellow Jesus Loves Me Fabric) Due to the color contrast of white on yellow, the clarity of the wording is not as strong as on darker colors.  We, therefore, have a lower price on this fabric.  It has a subtle but meaningful message. 
**Custom cut fabric is nonreturnable.**
The material is made from 100% cotton. Machine wash warm and tumble dry low. Only use non-chlorine bleach when needed. Wash dark colors separately.